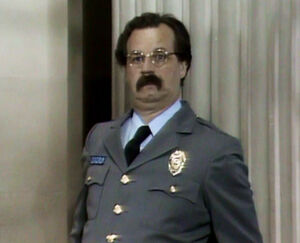 Paul Dooley (b. 1928) is a popular character actor whose films include Breaking Away, Popeye, Sixteen Candles and A Mighty Wind. He has played recurring roles in a number of TV series, including The Ben Stiller Show, Tales of the City, Dream On, My So-Called Life, The Golden Girls, Star Trek: Deep Space Nine, The Practice, Curb Your Enthusiasm and Desperate Housewives.
He was the head writer of The Electric Company for the first season, and Paul the Gorilla (played by Jim Boyd) was named after him.
In 1983, Dooley appeared as the museum guard in the Sesame Street TV special, Don't Eat the Pictures. On Sesame Street itself, he voiced a camouflaged parrot in a cartoon insert during the fifth season. 
He also appeared as Patrick Martin in the original "unhappy ending" of the Frank Oz film Little Shop of Horrors.
External links