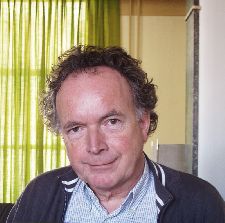 Paul Haenen (b. 1946) is a well-known Dutch comedian who dubs many character voices on Sesamstraat, the Dutch co-production of Sesame Street; his characters include Bert, Grover, Dr. Nobel Price, and Don Music. He also translates many of the American Sesame Street songs to Dutch.
Paul Haenen has been playing Bert since Sesamstraat debuted in 1976. Initially Bert's voice would be dubbed by Ton Hasebos and Paul only started with Grover. But because they all thought that Paul, with Wim T. Schippers as Ernie would be a better match, Paul got the part. Haenen and Schippers perform the voices of Bert and Ernie in Bert and Ernie's Great Adventures as well.
The Dutch Bert and Ernie are extremely popular and funny. Jim Henson was so impressed by the pair's performances, that they're the only Bert and Ernie in the world who are allowed to write their own material for the records. Haenen and Schippers have recorded a whole series of self-written Bert and Ernie record albums, and they also appear as Bert and Ernie in interviews.
Haenen and Schippers don't record the TV sketches together; partly because of their busy schedules, but also because they make each other laugh too much, and they have a great feeling for perfectionism. In an interview Paul said that when they are together dubbing the voices, they want to make the dub perfect by dubbing all characters properly. Because there is a little time to do so, they where split up to make the job go faster. A running gag on the Dutch Bert and Ernie albums is that Bert sings off key, whereas Ernie knows how to sing harmony, and likes to brag about it. In real life, Schippers has a greater musical background than Haenen; Haenen is better at singing in a bass voice. The pair appeared on-camera in the 2000 New Year's Eve special Sesamstraat In Paradiso, singing "But I Like You."
Haenen's other voice credits include character roles in The Dragon That Wasn't, Or Was He?, the first animated feature produced in the Netherlands, and various Disney and Pixar dubs, including The Gummi Bears (Cavin), Snow White and the Seven Dwarfs (as Bashful in the 1990 re-dub), The Jungle Book (Dizzy the vulture in the 1990 dub), Robin Hood (Sir Hiss), and The Incredibles (as Edna Mode).
Voice Credits
Community content is available under
CC-BY-SA
unless otherwise noted.