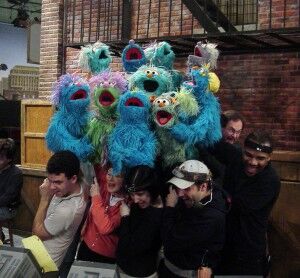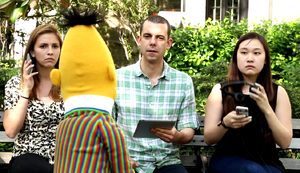 Paul McGinnis (b. July 23, 1973) has been a puppeteer on Sesame Street and on various Muppets and Henson projects since 2001. He performs Clem, Karli's foster dad, in a series of Sesame outreach videos on foster care.
He is married to Haley Jenkins.
Sesame Street credits
Sesame Street: Ambulance Driver, others
The West Wing: Elmo (right hand)
Healthy Habits for Life (PSAs)
Top Chef - Season 8, Episode 10
Smell Like a Monster viral video: Clam
NPR - 2/10/08
Good Morning America - 9/20/11, 5/10/13
The Chew - 4/2/12
The Isaac Mizrahi Show - August 6, 2003
Late Night with Jimmy Fallon - September 25, 2013
The Colbert Report - September 26, 2013
The Wendy Williams Show - September 25, 2013
The White House Easter Egg Roll - 2014, 2015
Macy's Thanksgiving Day Parade - various
Hollywood Bowl - July 2-4, 2004
Last Week Tonight with John Oliver - 9/2/2014, 4/17/2016
Saturday Night Live - April 11, 2015
Muppets credits
Henson credits
Non-Muppet credits
Saturday Night Live - January 25, 2020
Scooby-Doo (Scooby-Doo! Adventures: The Mystery Map)
Felt
Crash & Bernstein
Dog with a Blog
Warren The Ape (Robot, Jurgen, Warren Assist)
Little Shop of Horrors (2004 National Broadway Tour, 2008 Papermill Playhouse, 2019 Off-Broadway) Audrey II Puppeteer
Spike TV's 52 Most Irresistible Women
Greg the Bunny (Elephant Man)
the title of show show (Grampa)
Walking With Dinosaurs - The Arena Spectacular
The Jack and Triumph Show
NCAA March Madness (Greg Gumbel)
External links
Sources
Community content is available under
CC-BY-SA
unless otherwise noted.