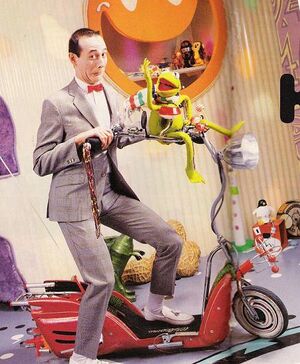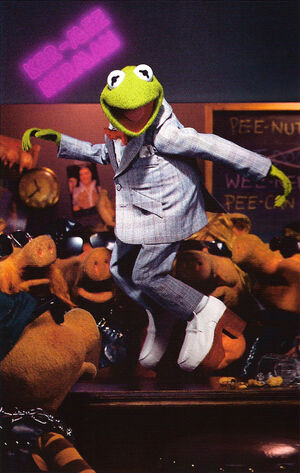 Paul Reubens (b. 1952) is an actor best known for playing "Pee-wee Herman" in a stand-up act, three movies and his TV show, Pee-wee's Playhouse.
In 1986, he received an "Honorary Muppet Award" in Muppet Magazine issue 14. He appeared on the magazine's cover again in 1987, in issue 17. He had previously been paired with Robin the Frog for "The Second Great Muppet Look-Alike Contest" in issue 5.
In issue 20, Kermit spoofed Pee-wee, as Ker-mee Herman, where he wore a "Pee-wee suit" and imitated the "Tequila" dance scene from Pee-wee's Big Adventure in a biker bar full of Muppet Pigs.
In 1987, Reubens filmed an insert for Sesame Street as Pee-wee (on the set of Pee-wee's Playhouse), reciting his own version of the alphabet (First: Episode 2356). He also appeared in the first celebrity version of Put Down the Duckie.
Reubens played Professor Spatz in the 1997 Creature Shop film Buddy, and he performed the voice of a raccoon in the 1998 film Dr. Dolittle.
A betting form posted on the door of Pepe's stateroom aboard Disney Cruise Line's ship, the Disney Fantasy, lists Peewee Hermit as one of the competitors in Pepe's Crab Races. The name is a spoof of Reubens' Pee-wee Herman character.
Screen credits include appearances in Tim Burton's Batman Returns and The Nightmare Before Christmas, Roald Dahl's Matilda, The Blues Brothers and Buffy the Vampire Slayer.
Among Reubens' television guest spots are appearances on Pushing Daisies, 30 Rock, Murphy Brown, Mork & Mindy, Dolly, hosting Saturday Night Live and voice work on Rugrats and The Flintstone Comedy Show.
Reubens also hosted the short lived ABC game show You Don't Know Jack in the persona of the fictional host Troy Stevens.
External links
Community content is available under
CC-BY-SA
unless otherwise noted.