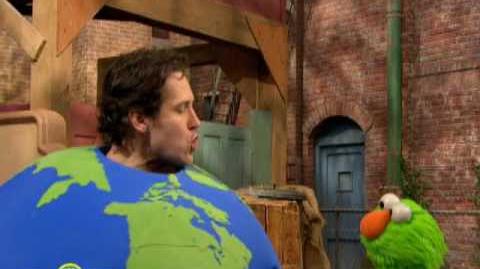 Paul Rudd (b. 1969) is an actor and comedian of stage, screen, and television. Rudd came to prominence in the feature film Clueless (with Alicia Silverstone) and has gone on to star in many other movies, including playing Ant-Man in the Marvel films.
Rudd plays Mr. Earth in the Sesame Street DVD Being Green, and made two appearances during the show's 40th season; playing a prince in episode 4212, and presenting "brilliant" as the Word of the Day with Grover in episode 4195. He also appeared as surfing instructor Chuck in Forgetting Sarah Marshall.
Among Rudd's other credits are the Broadway shows Three Days of Rain (with Julia Roberts), and William Shakespeare's Twelfth Night (with Helen Hunt), the television series Friends, as well as the films The Object of My Affection (with Alan Alda and Allison Janney), William Shakespeare's Romeo + Juliet (with John Leguizamo), and I Love You, Man (with Jason Segel). In appearances on Late Night with Conan O'Brien, he is well known for his running gag of showing clips from the film Mac and Me rather then his own films.
During his appearance at The Secret Policeman's Ball in 2012, Rudd was heckled off the stage by Statler and Waldorf.
External links