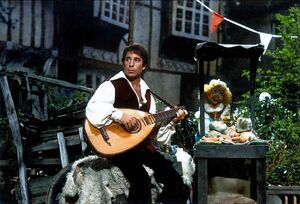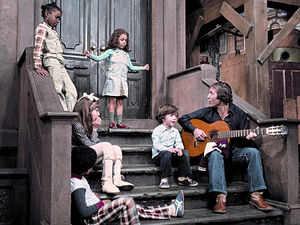 Paul Simon (b. 1941) is a famous singer and songwriter. With his childhood friend Art Garfunkel, he formed the duo Tom and Jerry in the 1950s, which had a sound similar to the Everly Brothers. After a few minor hits and some solo work in Britain, Simon & Garfunkel achieved their greatest fame during the 1960s under their own names, with many classic folk-rock songs, among them "The Sound of Silence," "Mrs. Robinson," and "Bridge over Troubled Water." The pair split up in 1970, with Art turning to acting and occasional solo work on his own. Paul, on the other hand, went on to a long solo career, although he has reunited with Garfunkel on several occasions.
Simon appeared on Sesame Street during Season 8, performing "El Condor Pasa," "St. Judy's Comet," "I Make Up Songs", a portion of "Get Back", and most notably "Me and Julio Down by the Schoolyard" with a group of kids, one of whom improvises her own verses. A live-action film from 1978 showed Simon and his son Harper (b. 1972) recording "Bingo" to demonstrate how vinyl records are made. (First: Episode 1133) Simon returned to the show years later to perform "African Alphabet" with Ladysmith Black Mambazo and appear in the celebrity version of "Put Down the Duckie."
Simon also guest starred on episode 511 of The Muppet Show.
Song covers
References
External links
Community content is available under
CC-BY-SA
unless otherwise noted.