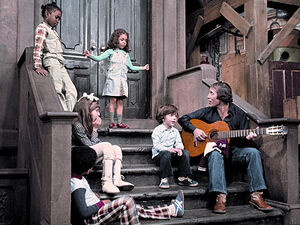 Paul Simon (b. 1941) is a famous singer and songwriter. With his childhood friend Art Garfunkel, he achieved fame during the 1960s with many classic folk-rock songs, including "The Sound of Silence," "Mrs. Robinson," and "Bridge over Troubled Water."
Simon taped several segments on Sesame Street during Season 8, making a memorable appearance performing "Me and Julio Down by the Schoolyard" with a girl named Leslie who improvised her own verses. He also performed "El Condor Pasa," "St. Judy's Comet," "I Make Up Songs", and a portion of "Get Back" by The Beatles (First: Episode 1088) prefaced with a song made up by the aforementioned Leslie and some other kids named Ricardo, Harper, Ruby, and Jill.[1]
The following season, he featured in a film in which he and his son Harper (b. 1972) recorded "Bingo" to demonstrate how vinyl records are made (First: Episode 1133). Simon returned to the show years later to perform "African Alphabet" with Ladysmith Black Mambazo and appeared in the celebrity version of "Put Down the Duckie."
Simon also guest starred on episode 511 of The Muppet Show where he performed several of his songs.
Song covers
References
Sources
External links