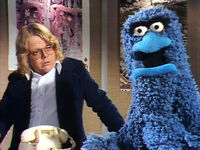 Paul Williams (b. 1940) is one of the most gifted and prolific lyricists and composers. He is also a singer, actor and humanitarian.
Some of his most famous compositions include, "We've Only Just Begun," "An Old-Fashioned Love Song," "I Won't Last a Day Without You," "Nice to Be Around," "You and Me Against the World," "Evergreen" and "Rainy Days and Mondays."
Performed "An Old-Fashioned Love Song" on Episode 108 of The Muppet Show.
Songs and Score: Emmet Otter's Jug-Band Christmas, The Muppet Movie
Songs: Muppet Christmas Carol
Appearances: The Muppet Show, The Muppet Movie, The Muppets Go Hollywood, The Muppet Show Live
Gonzo appears on his 2005 DVD release "I'm Going Back There Someday."
He is one of a small group of Muppet Show guests to have had a Muppet made in his likeness.
External Links