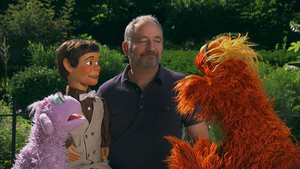 Paul Zaloom (b. 1951) is an American actor and puppeteer, known best for his starring role as the titular character in Beakman's World.
He appeared in the Inner Tube pilot as a video pirate character, Zaloom, who lacks a channel of his own and disrupts the proceedings with his own demonstrations.
He later appeared in a season 43 episode of Sesame Street in Murray's "People in Your Neighborhood" segment. He introduces Murray and Ovejita to his dummy, Buster, and explains different ways to make puppets.