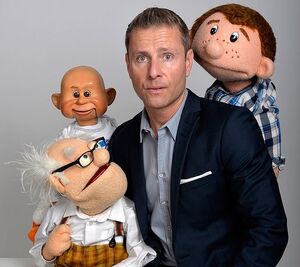 Paul Zerdin (b. 1972) is a British ventriloquist and puppeteer who worked as an additional performer on Muppet Treasure Island. Zerdin's ventriloquist act, consisting of his original characters Albert, Baby and Sam, won the tenth season of America's Got Talent. He has also performed his act at the Royal Variety Performance.
In 2011, Zerdin described his experience working on Muppet Treasure Island as "an absolute dream come true."[1] In a 2014 interview, Zerdin further remembered his hiring and work on the film, as well as the differences between puppeteering with the Muppets and performing his own act:[2]
"I got the job by accident. I was about to do a tour and had a couple of months before I started. It was after I'd been a kids' TV presenter. A friend of mine was a puppeteer who did Nobby The Sheep on a kids' show called Gimme 5 and I went to see him. I'd edited a showreel and a CV on the off-chance that I could maybe meet one of the bosses and show him my stuff. I was introduced to Kevin Clash, the main Muppet coordinator who did Elmo and lots of other characters on Sesame Street. He took me into an office and Brian Henson, Jim Henson's son, was there. He asked me if I was any good, and then said, "What're you doing Monday? You're working for us!" That's how I got in. I did a few weeks; they asked me to do more but I couldn't, because I had to do a tour. But it was amazing. I mean, Tim Curry was Long John Silver. You learn a lot about how film works.

. . . you carry out their orders and do what they want. I spent hours underneath a grassy mound with Gonzo. Your body goes into spasm. My arm never goes above my shoulder in my shows, as my puppets are eye-height; but with the Muppets, everything is above your head and you have to be out of shot. It's a totally different craft. When they shout 'action', you have to give it your all!"
Sources
External links
Community content is available under
CC-BY-SA
unless otherwise noted.