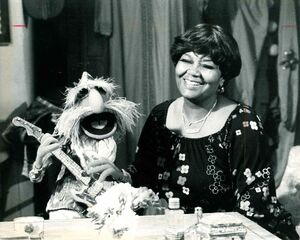 Pearl Bailey (1918-1990) was a singer, songwriter and actress who guest starred on The Muppet Show episode 305.
Bailey first made her mark in vaudeville and then on Broadway, debuting in St. Louis Woman in 1946. Years later, she would perform the title role in the all-black version of Hello, Dolly!, and she won a special Tony Award in 1968. As a singer, her recording of "It Takes Two to Tango" hit #7 on the Billboard chart in 1952. In films, she appeared in the musicals Porgy and Bess, Carmen Jones, and St. Louis Blues, as well as the comedies That Certain Feeling (with Bob Hope) and Norman, Is That You?. She was also the voice of Big Mama in Disney's 1981 animated feature The Fox and the Hound.
Bailey was appointed as a special ambassador to the United Nations in 1975 by President Gerald Ford, and she received the Presidential Medal of Freedom from President Ronald Reagan in 1988. She also received the Women's International Center (WIC) Living Legacy Award in 1989.
External links