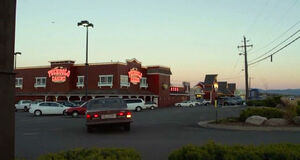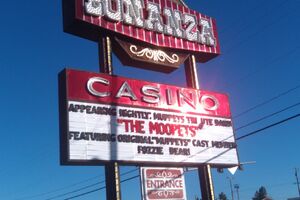 The Pechoolo Casino is a fictional casino located in Reno, Nevada. The casino is featured in The Muppets as the location of Fozzie Bear and the Moopets' stage show act.
Fozzie and the Moopets sing a variation of "Rainbow Connection" with new lyrics spotlighting the casino's various features - including great deals on hotel rooms, free parking for cars (not RVs), and a 24-hour wedding chapel (no marriage certificate is needed). On the film's soundtrack, there are other lyrics about the casino that are not heard in the film, such as free continental breakfast, HBO in every room, and free gas if you check in after noon.
Kermit the Frog, Gary, Mary, and Walter visit the casino to persuade Fozzie to help put on a show to save The Muppet Theatre.
Fozzie has a dressing room located in an alley behind the casino.
While a majority of the interiors for the Pechoolo Casino were filmed on a sound stage in Los Angeles, the exteriors and several pickup shot inside the casino were filmed at the Bonanza Casino in Reno, Nevada.[1] The "Bonanza" name was digitally removed from the exterior of the building and replaced with the "Pechoolo" name in post-production.
Sources
Community content is available under
CC-BY-SA
unless otherwise noted.