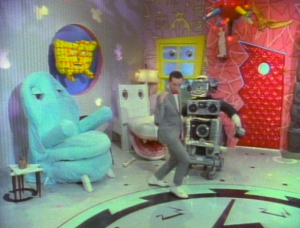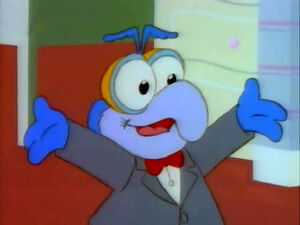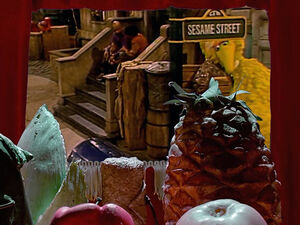 Pee-Wee's Playhouse (1986-1990) is a highly acclaimed children's television series combining live action, puppetry, and animation, starring Pee-Wee Herman, the fictional alter ego of Paul Reubens. The series had its roots in Reubens' stage shows, and a more adult 1981 special The Pee-Wee Herman Show was the first attempt to bring the playhouse to television.
Pee-Wee himself guest starred on Sesame Street, on his playhouse set and surrounded by the show's puppet characters, in an alphabet insert and in the celebrity version of "Put Down the Duckie".
References
In Episode 3075 of Sesame Street, the Amazing Mumford receives some items from the Meka Leka Magic Store, a reference to Jambi the Genie's magic words "Meka-leka-hi-meka-hiney-ho."
Mentions
In the episode "Camping Out" (season 5, episode 8), the food in Pee-Wee's refrigerator is shown watching Sesame Street (a clip from Episode 2616 is seen being projected behind the food when Pee-Wee opens the door). The closing credits state: "'Sesame Street' excerpt ©1990, Children's Television Workshop."
Connections
Community content is available under
CC-BY-SA
unless otherwise noted.