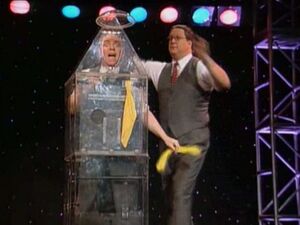 Penn and Teller (Penn Jillette b. 1955; Raymond Joseph Teller b. 1948) are a magic duo, best known for revealing just how they "do it," done both in their live shows, and on their many television series and specials, including Penn and Teller: Bullshit!
They were guest stars on episode 210 of Muppets Tonight.
Muppet Mentions
On a fourth season episode of Penn and Teller: Bullshit!, titled "Numbers," interviews are shown with two Washington, D.C. think-tank consultants. They are introduced by name and narrator Penn says "We asked them why there are so many songs about rainbows. They had no idea. They did know something about the national debt though."
External links
Community content is available under
CC-BY-SA
unless otherwise noted.