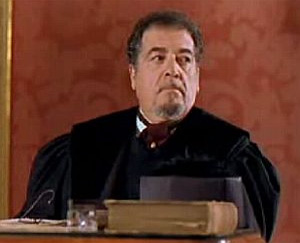 Pepe Mediavilla (1940-2018), full name Jose Fernández Mediavilla, was a prolific Spanish voice actor, heard in several Castillian dubs of Creature Shop films. He voices SkekUng in El Cristal Oscuro (The Dark Crystal) and Ludo in Dentro Del Laberinto (Labyrinth), recording opposite daughter Nuria Mediavilla in both. He also dubbed Shep in Good Boy!, Chief Sterns in Teenage Mutant Ninja Turtles, and Fred Flintstone in The Flintstones.
Mediavilla dubbed Leonard Nimoy as Spock on Star Trek for Spanish television. Usually dubbing character actors or supporting players which demand deep voices, he became the typical Spanish voice of Morgan Freeman and James Earl Jones. He also dubbed Gerry Parkes in The Boondock Saints, Charles Durning in The Front Page (1974), Tony Haygarth in Dracula (1979), Jason Bernard in V (and other projects), G.W. Bailey in Short Circuit, and Jack Warden in Night in the City.
He made a rare on-camera appearance in the 1999 Spanish film La Ciudad de los Prodigios, as the attorney general, and dubbed the title role in the reconstruction of Orson Welles' unfinished film Don Quijote.