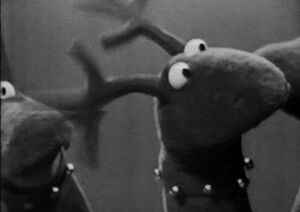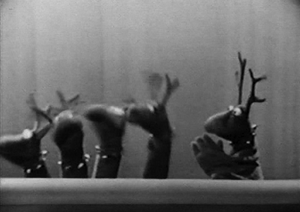 Perry Como's Kraft Music Hall was a weekly television variety show hosted by singer Perry Como, which debuted in 1959 on NBC, sponsored by Kraft Cheese. The series was simultaneously a re-working of Perry Como's early variety series (which under different names had been on TV since 1948) and of the venerable Kraft Music Hall format. The latter began on radio and had been showcasing popular singers and comics continuously since 1933; the fall and summer seasons immediately preceding Como's arrival had spotlighted Milton Berle and English comic singer Dave King respectively.
Como's version added "The Kraft Music Hall Players," which included such rising performers as Kaye Ballard, Don Adams, and Paul Lynde. The show aired weekly until 1963, and then ran as an occasional series, running monthly or bi-monthly in the winter and spring until 1967, when a new Kraft Music Hall returned on a weekly basis, featuring rotating hosts.
The December 20th, 1965 broadcast of Perry Como's Kraft Music Hall (then airing monthly) celebrated Christmas, with the Muppets as guests, along with comedian Jackie Vernon (later to have a more enduring Christmas connection as the voice of Frosty the Snowman) and opera singer Roberta Peters. In the Muppets' sketch, five Reindeer -- Dasher, Dancer, Donner, Prancer and Blitzen -- prepare for Christmas Eve. A reworked version of this sketch would be performed a few years later on a Christmas-themed episode of The Ed Sullivan Show.
During Como's tenure, the show spotlighted a mixture of up-and-coming talent and show-biz veterans, many of whom would later appear on The Muppet Show. The roster included George Burns, Burr Tillstrom and his puppets, Victor Borge, Lena Horne, Al Hirt, The Ray Charles Singers, Bob Newhart, Señor Wences, Anne Bancroft, Shirley Jones, Connie Stevens, Bill Cosby, Stiller and Meara, and Burns and Schreiber.
See also
Sources
Brooks, Tim and Earle Marsh. The Complete Directory of Prime-Time and Cable TV Shows: 1946 - Present Random House, 2003.
Community content is available under
CC-BY-SA
unless otherwise noted.