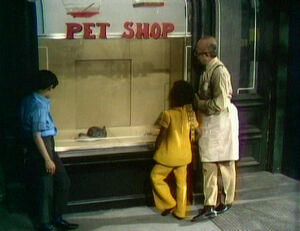 The Pet Shop is a business on Sesame Street with a large window display. Located directly next to Hooper's Store, the space would eventually house the Fix-It Shop (and other businesses).
It was used during the first season of Sesame Street for the human cast to show the kids various different animals and discuss their diet and grooming habits. The establishment remained on the show at least until its second season.[1]
Another pet store was located near Sesame Street in later years. In Episode 1040 (1977), David suggests that Buffy might find Big Bird at the pet store where he sometimes likes to go to talk to the birds. Standing in front of Oscar's trash can, he points in the direction of where Around the Corner would be many years later.
See also
Sources
Community content is available under
CC-BY-SA
unless otherwise noted.