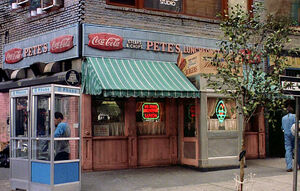 Pete's Luncheonette is a diner owned by Pete in The Muppets Take Manhattan. Located in Manhattan, near Broadway, the diner is small but cozy, boasting such fare as hamburgers, pancakes, egg malts, and hominy grits. Yankee bean soup, with spoon, is a popular special of the day.
Pete is the owner and main cook. The staff includes his daughter Jenny and Miss Piggy on the waitstaff and Kermit the Frog washing dishes. The rats (consisting of Rizzo and his colleagues Yolanda, Tatooey, Masterson, and Chester) served as waiters until they were shifted to kitchen duty following customer complaints. The penguins also wanted jobs at Pete's, despite the observation that the restaurant was not a zoo.
During a Twitter Q&A on October 15, 2015, Rizzo was asked if he'd ever gone back to the restaurant. He replied, "I've heard the health department shut it down. There were rats workin' in the kitchen. Who knew??" [1]
Trivia
The same exterior was used for the diner in the pilot episode of Seinfeld.
The site used as the exterior (208 Varick Street in New York, NY) is currently a McDonald's Express.