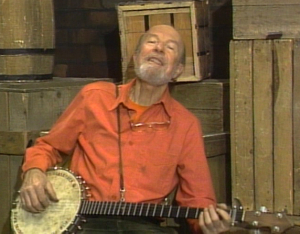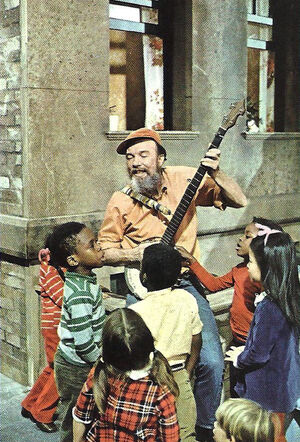 Pete Seeger (1919-2014) was a folk singer and political activist. In the early 1970s, he was a frequent guest star on Sesame Street, beginning with Episode 0048.
Seeger recorded a 1974 album, Pete Seeger & Brother Kirk Visit Sesame Street, with Reverend Frederick Douglass Kirkpatrick (Brother Kirk), joined by Big Bird, Oscar the Grouch and the Kids. Around that time, he appeared in episode 0741, and sang "Put Your Finger in the Air", "Guantanamera", "Cottage in the Woods", and "Proud Mary".
Seeger visited the series again in the 1980s, and appeared in the celebrity version of "Put Down the Duckie". A Season 18 performance by Seeger and the Kids, singing "Sweet-a Little Baby," was released on the 2003 album set Songs from the Street.
For his 90th birthday celebration, Oscar the Grouch sang "Garbage" at The Clearwater Concert: Creating the Next Generation of Environmental Leaders, Seeger's benefit birthday concert.[1]
Controversy
In 1970 and 1971, Seeger's Sesame Street appearances set off a minor controversy, with a number of conservative parents writing angrily to the Children's Television Workshop with accusations that the show was promoting "a known and self-stated Communist," as one correspondent put it.[2] The CTW defended the Seeger appearances and continued to book the singer on the program.
Appearances
External links
Sources
↑ Caramanica, Jon. "Pete Seeger Celebrates 90th With a Concert" - The New York Times. May 4, 2009
↑ Viewer correspondence in the Children's Television Workshop archive, series I, box 17, folder 45, National Archive of Public Broadcasting, University of Maryland, College Park, Md.
Community content is available under
CC-BY-SA
unless otherwise noted.