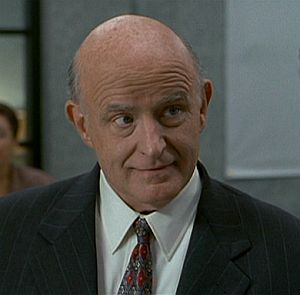 Peter Boyle (1935 - 2006) was an Emmy Award-winning character actor who played Calloway in the Creature Shop-effects film Dr. Dolittle.
The tall, imposing, balding Boyle was a familiar face in television and the movies, notably playing key roles in two 1974 hits: Young Frankenstein, in a more substantial role than usual as the sympathetic Monster, and Taxi Driver, as the philosophizing elder cabbie Wizard. Other notable films include Where the Buffalo Roam (as Bill Murray's eccentric lawyer), Hammett, Johnny Dangerously, The Dream Team (as a man mental patient who thinks he's Jesus), Yellowbeard, Malcolm X, While You Were Sleeping, Monster's Ball, and all three Santa Clause movies (as boss Mr. Whittle in the first and Father Time in the sequels).
In the TV realm, Boyle starred as Joseph McCarthy in the 1977 TV movie Tailgunner Joe, earning his first Emmy nomination, and went on to guest star on the likes of Cagney & Lacey, NYPD Blue, Lois & Clark: The New Adventures of Superman (twice as mobster Bill Church), and The X-Files (winning an Emmy as clairvoyant salesman Clyde Bruckman in "Clyde Bruckman's Final Repose.") He gained increased exposure as Raymond's cranky father Frank Barone on Everybody Loves Raymond (1996-2005).
External links
Community content is available under
CC-BY-SA
unless otherwise noted.