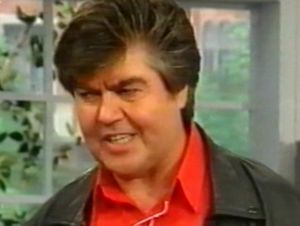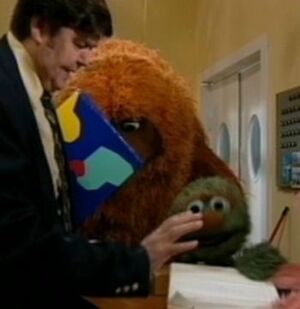 Peter Kirchberger (b. 1943) is a German voice actor who has been involved with Sesamstrasse since its start. He dubbed Don Music and various Anything Muppets (such as one of Snow White's dwarves) in the early seasons. He later added Snuffy, Biff, and others, including the narrator of the "Connie the Cow" segments. Following the death of Gerd Duwner, he took over as the voice of Ernie from 1997 until 2001, and currently speaks for Count von Count. He has also served as a recording director and script adaptor/translator for later seasons and served in the same capacity on Elmo - das Musical and Das Furchester Hotel.
Kirchberg has also appeared on-camera as a guest on Sesamstrasse, in a late 1990s episode as an Elvis-like customer at Bettina's shop, and then as a hotel guest in 2000.
Kirchberger's live-action dub credits include Elvis Presley in six films and John Candy in five. He also dubbed Adam West on Batman, Stephen Fry in Oscar Wilde and on Jeeves and Wooster, David Canary on Bonanza, Joe Santos on The Rockford Files, and various Columbo guest stars (including George Hamilton, William Shatner, Little Richard, and Bob Dishy as Sgt. Wilson). He also voice directed several Columbo installments (with dialogue adaptation by Eberhard Storeck).
Cartoon dub roles include Wallace in the Wallace and Gromit franchise and magical little critters on The Smurfs and Barbapapa. Kirchberger has been heard, but seldom seen, in several German TV series and films, voicing off-camera radio announcers, police voices, and the like, on Percy Stuart, Hamburg Transit, and others.
Outside of dubbing, Kirchberger performed with the German rock group Rudolf Rock & Die Schocker (often doing his Elvis impression) and released a few pop song singles in the late seventies and early eighties. On records and cassettes, he played supporting roles in the Three Investigators series and narrated the Heidi series.
Kirchberger's daughter, Stephanie Kirchberger, has also worked as a voice actress on Sesamstrasse-related projects.
Muppet dub credits
External links
Community content is available under
CC-BY-SA
unless otherwise noted.