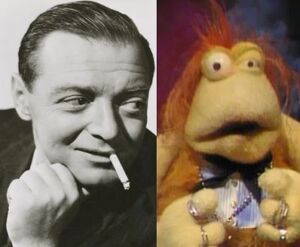 Peter Lorre was a Hungarian-born film actor known for his expressive heavy-lidded eyes, histrionic energy, diminutive appearance, and distinctive accent and vocal pattern. He began his movie career in Germany, starring a child-killer in Fritz Lang's M, which helped establish his association with sinister and villainous roles. Leaving Germany before the outbreak of World War II, he went to England (playing the main villain in Hitchcock's original The Man Who Knew Too Much) before settling in Hollywood, where he alternated between leads and scene-stealing support and became especially associated with horror (Mad Love) and crime films (Crime and Punishment).
Lorre's roles in The Maltese Falcon (as oily Joel Cairo) and Casablanca (nervous Ugarte) gained particular notice, while he also played a heroic lead as Mr. Moto in B detective movies and spoofed his sinister image in comedies (Arsenic and Old Lace and several outings with fellow cinematic boogeyman Boris Karloff). He was reteamed with his Falcon co-star Sydney Greenstreet seven times, contrasting the small cloying Lorre and the portly, arch Greenstreet. Later movies included Disney's 20,000 Leagues Under the Sea (as sidekick Conseil) and several films for studio AIP (including Muscle Beach Party and multiple horror outings). Occasional television included playing Le Chiffre in "Casino Royale" on Climax (the first screen James Bond adaptation) and a memorable Alfred Hitchcock Presents outing as a gambler who places someone else's finger as the stakes.
Lorre's voice (and sometimes face as well) became ubiquitous in pop culture imitations (often as a mad scientist or monster), from Looney Tunes to Spike Jones records to Hanna-Barbera's Morocco Mole to Boo Berry Cereal.
References
Marlon Fraggle on Fraggle Rock is reminiscent of Peter Lorre in his voice, large wild eyes, and generally manic and vaguely sinister demeanor.
The fourth season Dinosaurs episode "Monster Under the Bed" features monster movie character Igor. While otherwise fitting the hunchback Igor stereotype, he doubles the horror referencing by possessing a Peter Lorre voice.