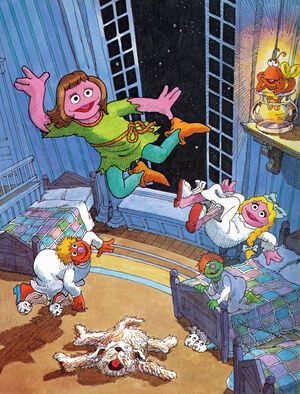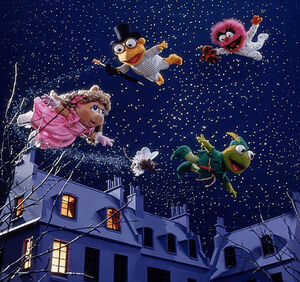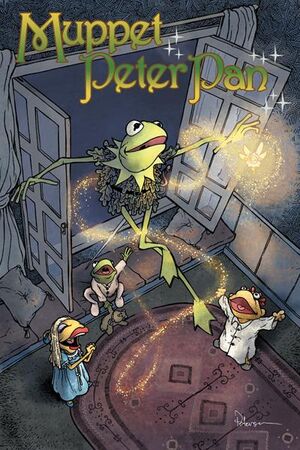 Peter Pan is a play written by J. M. Barrie in 1904 about a boy who refused to grow up. The story has been adapted many times, first by Barrie himself as the novel Peter Pan and Wendy in 1911, and subsequently as musicals, feature films, and television series. One of the better known film versions is the 1953 Walt Disney animated feature.
In most stage adaptations of the story, the titular character has been played by an adult woman so as to better capture the prepubescent vocal stylings of a young boy.
The Jim Henson's Creature Shop created many creatures for a live stage adaptation of Peter Pan titled Pan, including the Croc, Sheldon the Snurtle, Fribbits, and a 15 foot tall "Honker".
References
In the earlier Muppet Babies episode "By the Book," Baby Scooter reads Peter Pan and imagines himself and Baby Skeeter as Peter Pan-like twins. Kermit and Rowlf play Michael and John, Piggy plays Piggybelle, and Baby Gonzo is Captain Hook Nose.
In a Sesame Street sketch with Wanda Falbo (Word Fairy), she demonstrates using a telephone when receiving a call from Tinkerbell.
Peter Pan or Tinkerbell are some of the characters that Bear suggests that the viewer can dress up as for Halloween in "Halloween Bear."
Muppet Peter Pan is a 2009 comic book adaptation of the Peter Pan story, starring the Muppets.
In Tales of a Sixth-Grade Muppet, when Danvers tells his best friend Pasquale that he needs his help, one of the comparisons he makes is calling him "the Wendy to my Peter Pan".
In a segment of Abby's Flying Fairy School, Captain Hook pays the class a visit and invites them on a treasure hunt. Abby also comments that Tinker Bell is her cousin.
Connections
See also
Community content is available under
CC-BY-SA
unless otherwise noted.