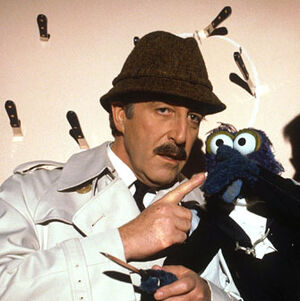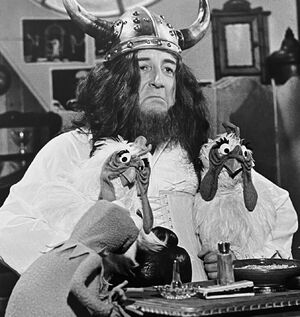 Peter Sellers (1925-1980) was a British comedic actor who first became well-known as one of the stars of the surreal BBC radio comedy The Goon Show, and went on to play Inspector Jacques Clouseau in the Pink Panther films.
Sellers guest starred in The Muppet Show episode 219. When he was chosen to appear on the show, he requested that they not do a "Talk Spot". In this recurring skit, Kermit interviews the guest for a short period as himself, and Sellers stated that he couldn't be himself: "I can be Queen Victoria, but I cannot be myself." The Muppet writers replaced the Talk Spot with a skit in which Sellers expresses his lack of self (claiming to have had it surgically removed), and briefly imitates Queen Victoria in a viking helmet.
With Spike Milligan and Harry Secombe, Sellers starred on The Goon Show during the 1950s and 1960s. A successful film career followed, which in addition to the Pink Panther films, included The Mouse That Roared (in three roles), The Wrong Box with Dudley Moore and Michael Caine, Lolita, and Being There, his final film. In 1964, he was nominated for an Academy Award for Best Actor for Dr. Strangelove, a film in which he played three characters, from President of the United States to an RAF captain to the mad German title character.
He was appointed a CBE in 1966.
Sellers, a fan of The Muppet Show, had a collection of episodes on videos which he would watch repeatedly. He once told Dave Goelz that his favorite character was Gonzo, and felt a bond between that character and his own Inspector Clouseau.[1]
Sellers died of a heart attack on July 24, 1980. He was due to undergo heart surgery at the time of his death.
Sources
↑ Best of the Muppet Show Volume 4 Easter egg
External links
Community content is available under
CC-BY-SA
unless otherwise noted.