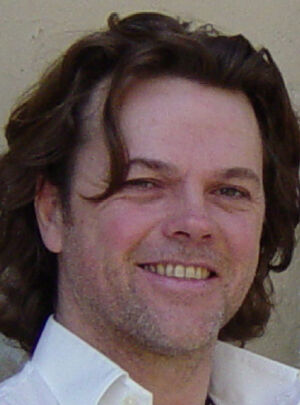 Peter Sjöquist (b. 1964), full name Peter Göte Sjöquist, is a Swedish actor who dubbed Tutter in Nalle har ett Stort Blått Hus (Bear in the Big Blue House) and various characters in Leksakernas Hemliga Liv (The Secret Life of Toys), Eliot Shag in Dog City and The Flintstones in Viva Rock Vegas.
He made his debut in the Swedish TV movie Sova räv (1982). His stage debut came in 1983 in the the children's play Karlson på taket, based on the work of author Astrid Lindgren. In 1988, he began doing voice work, and since 2004, he has also been a freelance voice director.
His Swedish voice work includes the live action films Spy Kids 2 (dubbing Steve Buscemi), Two Brothers, and the Harry Potter films (dubbing David Thewlis), as well as the animated productions What's New, Scooby-Doo (as Fred), Pokémon 2 - the Power of One (as Lawrence III), Barnyard, and many others. His dubbing director credits include Son of the Mask, American Dragon, Chicken Little, and Over the Hedge .
His children, Simon Sjöquist and Norea Sjöquist, are also professional dub actors who supplied additional voices on the Bear in the Big Blue House dub.
External links