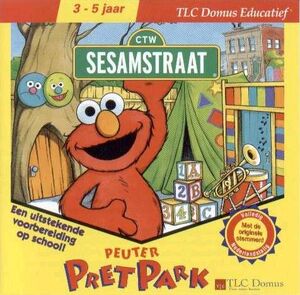 Peuter Pretpark: Peuter pret met Elmo (Toddler Carnival: Toddler fun with Elmo) is a Sesamstraat CD-ROM game developed by Mindscape and Sesame Workshop. In the game, Elmo explores the carnival.
Contents
"The Sound Game": Find a specific sound. Also find the sound that is missing in a series.
"Emotions": Create a face that's afraid by selecting the right eyes, mouth, etc... Also make a face that you show when someone drops the wooden castle that you built.
"Shapes": Find a special shape, like a triangle, circle or square. Copy a design, noting a special place for each shape.
"Numbers": Elmo teaches all about numbers, and how to use them.
"Letters": Learn about the letter S and find that letter. Spell F I S H.
See also