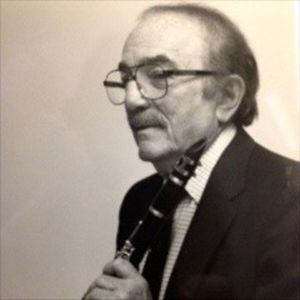 Phil Bodner (1917-2008) was a versatile woodwind musician who recorded on several Sesame Street albums. He most often played clarinet, but was also proficient at alto sax, the flute, piccolo, and the oboe. On the oboe, Bodner was featured in "Opus for Oboe" in the 1981 album Big Bird Discovers the Orchestra. On the same album, Bodner played clarinet, flute, and English horn (despite the name, a woodwind).
Bodner played with Benny Goodman in the 1950s, including on the soundtrack of The Benny Goodman Story (1955); since Goodman was his own principal clarinetist, Bodner played alto sax. He worked most often as a session musician, particularly with Miles Davis, and also accompanied Billie Holliday, Frank Sinatra, Tito Puente, George Benson, The Bee Gees (on Mr. Natural), Carly Simon, Grace Slick, Billy Taylor, and Bette Midler, and with fellow Sesame musicians Toots Thielemans (Contrasts) and Mel Davis (Music for Weight Watchers).
For a time, Bodner led his own studio group, The Brass Ring, originally formed for Dunhill Records in 1966, who also recorded commercial jingles and continued to work through the 1970s. On his own, Bodner played flute on the soundtrack for Fame, clarinet in the Woody Allen films Zelig and Radio Days, and multiple reeds on the 1980 Star Wars Christmas album Christmas in the Stars.
Discography
External links
Community content is available under
CC-BY-SA
unless otherwise noted.