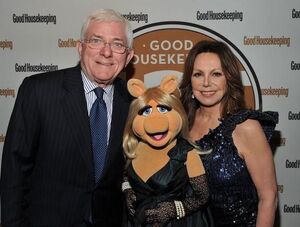 Phil Donahue (b. 1935) is a television talk show host whose syndicated The Phil Donahue Show ran from 1969 until 1996.
He guest starred on Sesame Street Episode 2096 in 1985, covering the revelation that Mr. Snuffleupagus was indeed real. He later appeared on The Sesame Street Special, and had the Sesame Street cast as guests on his show in 1994, celebrating the 25th anniversary of both programs. He was also featured in the second celebrity version of "Put Down the Duckie" (replacing Paul Reubens).
Along with his wife Marlo Thomas, Donahue was photographed with Miss Piggy on the red carpet of the Good Housekeeping Shine On Event in 2010.