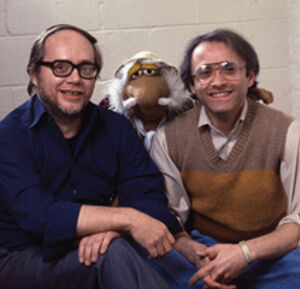 Philip Balsam, also credited as Phil Balsam, is a Canadian singer and composer who worked on Fraggle Rock. Though the background score was mostly handled by Don Gillis, Balsam, working with lyricist Dennis Lee, composed the "Fraggle Rock Theme" and most of the songs used on the series. As recalled by Jerry Juhl in the Season 1 DVD set, "Follow Me" was the first song submitted by Balsam and Lee, as a demo, and the theme song and others followed. Balsam occasionally collaborated with other lyricists, such as writer B.P. Nichol for the song "The Joy" from "The Invasion of the Toe Ticklers."
Balsam also provided the voice, and inspired the name, of Phil Fraggle in "New Trash Heap in Town", and made a cameo as a Silly Creature street musician in "The Day the Music Died".
Balsam and Lee later wrote songs for Rocky Mountain Holiday, The Tale of the Bunny Picnic, The Jim Henson Hour, Muppet Classic Theater, and The Animal Show, while Balsam worked solo on Dog City, composing the main title theme. Non-Henson work included songs, music and lyrics, for the Nelvana feature Babar: The Movie, as well as co-writing songs with Lee for Groundling Marsh, including the theme song in which Balsam provided the lead vocals.
It has been presumed that Balsam the Minstrel was named after Philip Balsam; however, it has never been officially confirmed.
Community content is available under
CC-BY-SA
unless otherwise noted.