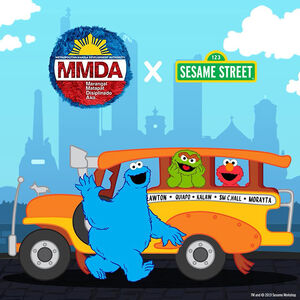 The Philippines is an island nation located in Southeast Asia.
The country was home to the short-lived Sesame Street co-production, Sesame! in 1983.
On Episode 3576 of Sesame Street, the tinikling, a Philippine national dance, is performed. Another episode shows that Lexine and Celina have relatives in the Philippines. Episode 3331 features home movies of Lexine's trip to the Philippines. In Episode 4120, Global Grover visited the Philippines and brought a playground slide back with him to Sesame Street.
In 2011, Sesame Workshop partnered with Filipino singer, Rico Blanco, to launch an education campaign called "Sesame Street Kid Ako" (I am a Sesame Street Kid). As part of the campaign, Blanco released rock versions of the songs "Ladybugs' Picnic" and "Lowercase N". Warner Music put up a Sesame Street corner in public schools for a whole month to encourage laughter and learning at an early age. Walkaround versions of Elmo and Cookie Monster were present to kickstart the event.
In May 2012, Caroll Spinney and Oscar the Grouch were keynote speakers at the Philippine Pediatric Society's annual convention.
In 2017, Elmo visited the Philippines and made TV appearances, as part of the Spread Kindness, #ShareTheLaughter global campaign. Aside from spreading kindness, Elmo toured several landmarks in Manila.
In 2019, Sesame Workshop partnered with the Metropolitan Manila Development Authority to launch a three-year educational campaign on children's road safety. A large Sesame Street mural was revealed at the launch of the campaign.
The 2019 Sesame Street Run Tour kicked off in the Philippines in August.
When Uncle Deadly says the most popular flavor of ice cream is vanilla in The Muppets episode "Little Green Lie", Floyd Pepper says "The capital of the Philippines?"