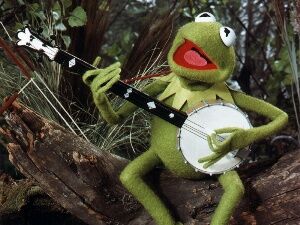 A photo puppet is a poseable, full-body version of a Muppet created specifically for photographs, displays, and various other scenarios in which actual puppets are either inappropriate or unnecessary.
Photo puppets are not Muppet-style puppets in the traditional sense, as they can be posed but not operated from within. They are sometimes known as posers or poser puppets. Prominent uses of photo puppets include calendars, print advertisements, video covers, and Muppet Magazine photos.
A specific division, the Henson Photo Studio, was established to supervise photo puppet projects. John E. Barrett is the longtime chief photographer (although Richard Termine has been the chief Sesame Street in-house photographer), and Michael K. Frith was the initial design supervisor. Various Muppet Workshop employees have contributed over the years, including Danielle Obinger, Barbara Davis, and Lyndon Mosse.
One notable example of photo puppets is Miss Piggy's Guide to Life, the 1981 bestselling book, which uses more than a hundred specially-composed photographs of Miss Piggy. The photos were taken by Barrett, with hairstyles and costumes by Calista Hendrickson (Piggy's "personal stylist"), and set designs by Dennis Smith and Bruce Morozko. Barrett also took the elaborately-staged photos for Miss Piggy's Art Masterpiece Calendar (1984).
Most photo puppets are versions of existing characters, though occasionally new creations were made for Muppet Magazine. These are generally adapted using style guides and based upon the actual puppet. Certain photo projects require a larger cast of "extras," however, including magazine covers and the Muppet Babies photo storybooks. For these, as a cost-saving measure, existing stuffed toys were modified by the Workshop, with new Muppet features and an armature. The 1980 LIFE magazine cover depicting Miss Piggy's run for the presidency required a host of background frogs as reporters, security, and aides. Multiple 1977 Fisher-Price Kermit dolls were purchased and modified by removing the collar and adding new eyes and an armature. For Muppet Babies' Classic Children's Tales, a similar approach was used for the goat in an adaptation of Heidi, altered from a Gund toy.
In 2006, Master Replicas began producing a line of photo puppet replicas, based on the original patterns from the Muppet Workshop and similar materials. Kermit the Frog, Animal and Gonzo photo puppets have been released. In 2009 the license was picked up by eFX; the company plans to produce photo puppets of Rizzo the Rat, Reporter Kermit, Pepe the King Prawn, Fozzie Bear, and Miss Piggy.
External Links