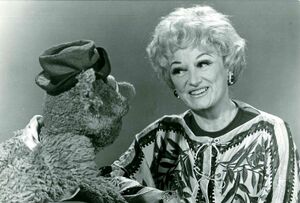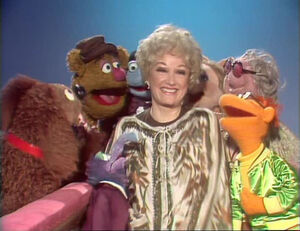 Phyllis Diller (1917-2012) was a comedienne and actress. She was the guest star on episode 118 of The Muppet Show, and made a brief appearance in The Muppets Go Hollywood.
Diller was one of the first women to establish a long and successful career in comedy. She earned a star on the Hollywood Walk of Fame in 1993.
She retired from the stand-up circuit in 2002 due to ill health. Her film career included lending her voice to multiple projects including the Rankin/Bass Halloween film Mad Monster Party, Pixar's A Bug's Life, The New Scooby Doo Movies, Hey, Arnold!, and Family Guy. Feature film work included three films with Bob Hope, and The Silence of the Hams. She also appeared on Broadway as the title character in Hello, Dolly!.
External links