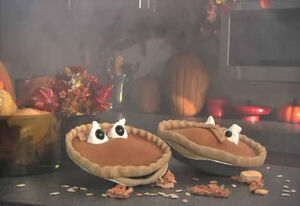 A pie is a baked food typically composed of a pastry shell that can be filled with fruit, custard, cream, meat, or other ingredients. It is often covered with a pastry crust when consisting of fruit filling, though pies made of pumpkin or custard are more typically topped simply with whipped cream.
Pie in Humor
The "pie in the face" gag has been around since the days of Vaudeville. The Keystone Kops were credited with bringing it to the big screen. The "art" of the pie fight was later amplified in 1927 with Laurel and Hardy's short film The Battle of the Century. Monty Python, Charlie Chaplin, Bugs Bunny, The Three Stooges, Dick Van Dyke, Carl Reiner, and Mel Brooks have all used pie gags in their productions. The Muppets have used and adapted this joke on numerous occasions. Pies used on The Muppet Show for such gags are made from Crazy Foam, a children's bath product far easier to clean off of a puppet's fur and fleece than custard or fruit.[1]
Other Uses in Comedy
General References
Sesame Street
Ernie and Bert: Ernie has two slices of apple pie. He takes the big piece, and gives Bert the small piece. Bert takes offense to this, saying that he would have given Ernie the big piece and kept the small piece for himself - but the outcome is the same, so what's Bert angry about?
(First: Episode 1166)
Waiter Grover: Grover serves only "CH" food in honor of Charlie's birthday, including cherry pie.
Waiter Grover: On rhyming day, Grover brings Mr. Johnson apple pie instead of tuna on rye.
Colambo: The Great Plum Plunder - Colambo enjoys a piece of Christmas pie.
"Blueberry Mouth": A song about blueberries and blueberry pie.
"Round and Round in Circles": One of the circles Elmo enjoys is a blueberry pie.
Episode 3240: Mr. Handford shows addition using cream pies.
Misc Muppet References
Merchandise
Honorary Mentions
Sources