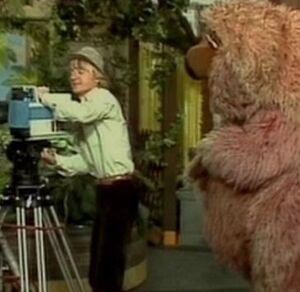 Pierre Franckh (b. 1953) is a German actor who guest starred on Sesamstrasse around the 1980s, as a director visiting the street. Prior to this, Franckh had dubbed Mark Hamill (and his cousin Luke Skywalker) on Die Muppet Show and later dubbed the Whale in The Hitchiker's Guide to the Galaxy.
Franckh began his film career in the sixties in child and then teenage roles. On TV as an adult, he often played character roles (sometimes criminal) on the long-running series Tatort, Derrick, and Der Alte. He played Lancelot on Merlin (with Ekkehardt Belle in the title role). In English-language films, he had bits in Cabaret and the remake of The Lady Vanishes (with Elliott Gould).
Periodic dubbing roles included Martin Short in Three Amigos, Donavan Leitch Jr. in The Blob, Ed O'Neill in Dutch, and Mackenzie Crook in Finding Neverland.
External links