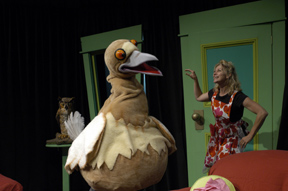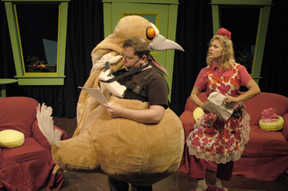 Pigeon-Holed, a one-act play by Sesame Street writer Annie Evans, deals with the backstage politics of Miss Poppy's Place, a fictional children's television show. The play features several in-jokes for Sesame Street performers and writers, and is a relatively accurate, if exaggerated, portrayal of the show's backstage scene.
In its original production at the O'Neill Puppetry Conference in 2004 , Leslie Carrara-Rudolph played Miss Poppy, a bitter actress who would rather be playing Lady MacBeth. The production featured several puppeteers from Sesame Street, including Heather Asch (as Miss Fork in the Outlet), Martin P. Robinson (as Jon, the voice from the control room) and Patrick Holmes (as Pidge, a full-body puppet).
The play was also performed in January 2006 at "A Passion For Puppetry", a tribute benefit for Nikki Tilroe, with many of the same cast members. Pam Arciero played Pidge in this production.
Community content is available under
CC-BY-SA
unless otherwise noted.