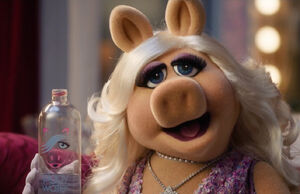 Piggy Water is a beverage branded to capitalize on Miss Piggy's celebrity. The bottle features a logo based on her face, and the rim features lipstick as if Piggy herself had just taken a sip. Piggy Water was developed in the wake of Miss Piggy's shower gel, Hog Wash, which lost her money. She describes it as "buttery good", most likely derived from the 30 grams of fat contained within.
In The Muppets episode "Going, Going, Gonzo", Piggy tried to feature the product on Up Late with Miss Piggy, but Kermit wouldn't let her as it was an unpaid advertisement. He finds a way to work it into the show, however, as the sponsor of a stunt Gonzo had always wanted to perform. In exchange, Gonzo had to wear a Piggy Water branded outfit and change his name to The Great Gonzo brought to you by Piggy Water ("even answering the phone and stuff").
Community content is available under
CC-BY-SA
unless otherwise noted.