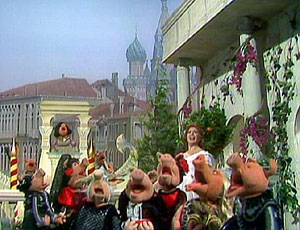 Pigoletto was the name given to the opera put on by the Muppets with Beverly Sills in episode 409 of The Muppet Show. Sills headlines a cast of pigs on a cityscape river bank in 18th century Paris, using material from a number of Giuseppe Verdi operas. Before the number begins, a pig duo appears in Sills' dressing room wardrobe to audition with the "Anvil Chorus" from Verdi's Il Trovatore, while Miss Piggy warbles the "Habanera" aria from Georges Bizet's Carmen for her audition piece.
The sketch begins with Sills singing "Sempre libera" from Verdi's four-act opera, La Traviata. She is interrupted by a pig (performed by Richard Hunt) dressed as a matador for a comical rendition of "The Toreador Song" with made-up lyrics. This overlaps and segues back to Sills, who is again interrupted, this time by Miss Piggy in her debut performance as Cleopatra. She makes her entrance on a ship manned by two pig slaves who row to the beat of Verdi's "Grand March" from his 1871 opera Aida. Having traveled forward in time hundreds of years, and no short distance across the Mediterranean Sea, she challenges Sills to a battle of the voice, which they reproduce via Wotan's battle cry from Richard Wagner's Die Walküre. Piggy wins the contest by dropping to a dramatic low note and is rowed offstage.
Left to continue her solo, Sills barely gets to sing a chorus of the song she began the sketch with, when Dr. Julius Strangepork leads yet another group of pigs in their version of "La donna è mobile" from Verdi's Rigoletto. The first set of pigs joins them and take a note from Sills' melody, which they turn into the song "God Bless America." Cleopatra returns for the finale and the reception of flowers thrown onto the stage from the audience.