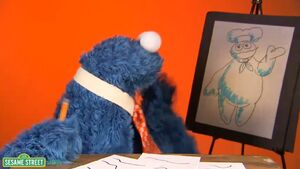 Pillsbury is a foodstuff producer, known for their Pillsbury Dough products, and by their mascot, the Pillsbury Dough-Boy.
References
On November 23, 2010, Sesame Workshop launched a viral marketing campaign on Facebook and Youtube called Cookie Monster should host Saturday Night Live! In the video, Cookie Monster auditions for the job by putting on an entire show in a short amount of time. During the "Fake News" sketch (a spoof of SNL's Weekend Update), Cookie reports that "world-famous dough-guy" had stayed out in the sun for too long and became baked.
Baking sets
In the late 1970s, Pillsbury made several Sesame Street baking sets, including Alphabet Cookie Cutters, a Mix and Measure Set, a set of Cookie Stampers and a Big Bird eggbeater.