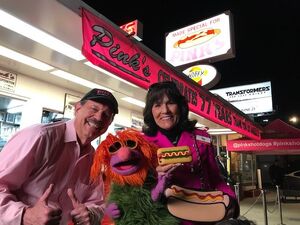 Pink's Hot Dogs is a landmark hot dog establishment located in Los Angeles, founded in 1939 by Paul and Betty Pink. The business initially started a sidewalk service cart before expanding to a full building in 1949.
The location was used in a brief scene in The Muppets. As Walter explains to Gary and Mary that they need to find Kermit the Frog to save the Muppet Theatre, they drive by the establishment. Spotted in front is a man selling "Star Maps," when Walter declares having an idea. Playing with the audience's expectations, the group is then seen eating Pink's hot dogs in the car instead.
The establishment was briefly featured during a performance of "Mah Na Mah Na" during The Muppets Take the Bowl, where Mahna Mahna visits the location after leaving the stage. On June 22, 2017, the establishment's official Twitter shared a photo of Mahna Mahna visiting the location:
"

It's a special night when @TheMuppets #MahnaMahna stops by #PinksHotDogs and hangs out with @RichardPink7 and #GloriaPink! #Muppets

"
External links
Community content is available under
CC-BY-SA
unless otherwise noted.