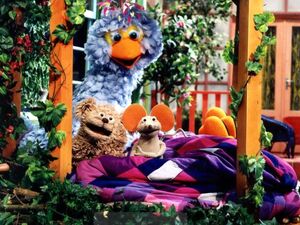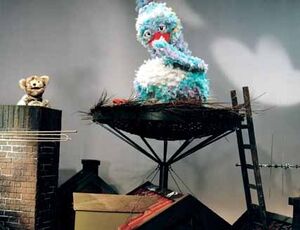 Pino's nest is the home of Pino on Sesamstraat. Located to the left of The Kiosk, next to Sien's Store, Pino's nest is set off with a pergula with Hedera plants. A wooden roof and other plants from surrounding gardens set off the area, giving Pino complete privacy. His bed is a large-scale version of a real bird's nest, made of sticks and twigs.
The furnishings include only a large patchwork blanket which he uses to snuggle up when it's bedtime and bedtime stories are told (sometimes with Tommie and Ieniemienie).
In the beginning of the series the nest was located on top of the roof from the Piet's Workplace. Because the acting space was very limited that way, they brought the nest downstairs, so it became easy for better interactions. Later on in the show, the nest still existed in the street, but wasn't used anymore for bedtime stories. When the stories were told, all of the Muppets went to the bedroom. Most of the time Pino sat next to the reader, and Tommie and Ieniemienie were lying in a real bed.
When the set was re-designed in 2005, they left out Pino's nest.
Community content is available under
CC-BY-SA
unless otherwise noted.