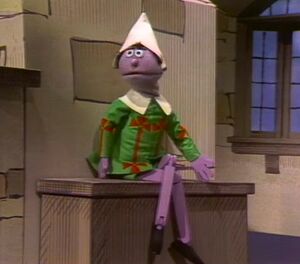 Pinocchio is a wooden puppet whose major claim to fame is that his nose grows longer when he tells a lie; people come from miles around to see it.
In a "Sesame Street News Flash" sketch, Kermit the Frog asks Pinocchio for a demonstration. The puppet says that "My name is Abraham Lincoln, and I'm 500 feet tall!" The lies make his nose grow longer. When he sees that Kermit is impressed, he claims that "I am a thousand million years old and I can lick Superman!" Then he tells the truth a pair of times, and his nose grows shorter.
But he can't resist showing off once more: "My name is Cinderella and for breakfast I ate two dragons! And then I ate the whole world, and then I sat on the Moon, and I became the President of the United States!"
Kermit tries to calm Pinocchio down, but he can't help himself: "And then I drank a million trillion glasses of milk, and then I ate airplanes, and I put the Sun in my pocket!" His nose grows so far that it pushes Kermit through the wall.
After his nose takes the wall out, he continues as his voice gets higher: "And, I swallowed a whale . . ." "And, I turned orange, and yellow, and green . . ." Before Pinocchio is able to tell another falsehood, Kermit hollers, "Stop you nose, I wanna get off!" Pinocchio asks, "What?" Kermit tells him, "Will you please tell the truth, and make this thing shorter, so I can get off of this thing!" Pinocchio responds, "OK, my name is Pinocchiooooooooooooo!" The nose gets a whole lot shorter, and as a supposedly relieved Kermit is returning viewers to Sesame Street he loses his footing!
Family life
At the beginning of the sketch, Pinocchio says hello to his mother, the Oak, and the saplings, Myrtle and Magnolia.
Behind the scenes
The effect of Pinocchio's nose growing longer was done by sticking the puppet to the wall, putting a hole through the center of the back of the puppet's head, and pushing a lavender-colored broom handle through the hole.
Community content is available under
CC-BY-SA
unless otherwise noted.