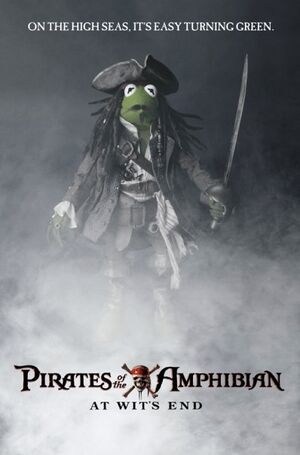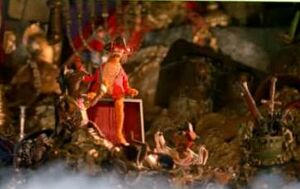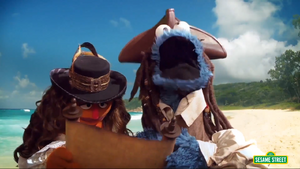 Pirates of the Caribbean is a Disney theme park ride and a series of films from The Walt Disney Company starring Johnny Depp as Captain Jack Sparrow. The film franchise is based on the classic Disneyland attraction.
Theme park attraction
During the failed sale of the Muppets to Disney in 1990, a proposed take-over of Disneyland by the Muppets was put into pre-production. With Mickey Mouse, Donald Duck, and the other Disney characters on a year-long vacation after Disneyland's 35th Anniversary Celebration, many of the park's attractions would feature Muppet touches. Among those would be Animal replacing one of the wench chasing pirates in the ride.[1]
References
Muppet Mentions
Johnny Depp made a surprise appearance at the 2009 D23 Expo dressed as Captain Jack Sparrow at the end of an arena presentation which had included a musical number by the Muppets. Jack said that he'd like a snack, and asked where that nice frog was who'd been on stage earlier -- "he probably tastes like chicken."[2]
On Stranger Tides
In 2011, Kermit the Frog joined Ben Lyons on the "black carpet" for the world premiere of Pirates of the Caribbean: On Stranger Tides at Disneyland.[3] While many celebrities were interviewed, Pirates cast and crew included Jerry Bruckheimer, Penélope Cruz, Rob Marshall, Johnny Depp, Geoffrey Rush, Keith Richards, and Ian McShane. Kermit also dresses like Jack Sparrow to impress Johnny Depp. The end of the Muppets Studio's web video included a teaser for The Muppets coming to theaters later that year.
Connections
Sources
↑ The Muppety Makeover of Disneyland That Almost Happened. Hill, Jim. December 19, 2011. The Huffington Post
↑ Boucher, Jeff. "Johnny Depp (in Jack Sparrow costume) surprises Disney D23 Expo audience", LA Times blog. September 11, 2009.
Community content is available under
CC-BY-SA
unless otherwise noted.