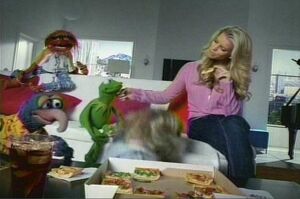 Kermit the Frog, Fozzie Bear, Gonzo, Miss Piggy, Animal, Statler and Waldorf appeared in a series of Pizza Hut commercials during the 2004, 2005, and 2006 Super Bowls.
In 2004 and 2006, Jessica Simpson co-starred with the Muppets in the ad campaign.
2004
The 2004 commercial spots featured Kermit, Piggy, Fozzie, Animal, Gonzo, and Jessica Simpson promoting Pizza Hut's "Four-for-All pizza". Camilla can also be seen about to be struck by a fork and knife as well. They fight for the toppings. Jessica brings home the Four-for-All and she gives the green pepper pizza to Kermit, calling him "Kermie." Then Piggy, with a megaphone yells "Step away from the frog", Animal says "bye bye", and the Pizza Hut slogan "Gather Round the Good Stuff!"
2005
The Muppet gang (Kermit, Piggy, Gonzo, Fozzie, Animal, Statler and Waldorf) appeared in the series of ads for Pizza Hut's new "Dippin' Strips".
2006
The Muppets and Jessica Simpson promote Pizza Hut's new "Cheesy Bites Pizza". In the ad, Simpson and Piggy wear matching outfits in a parody of Jessica's cover of "These Boots Are Made for Walkin'" titled "These Bites Are Made for Poppin'".
2013
Pizza Hut used a brief clip from The Muppets Take Manhattan in a 3 Cheese Stuffed Crust commercial. The clip was from the Danhurst College scene which has since been licensed for use as stock footage. [1]
Gallery
References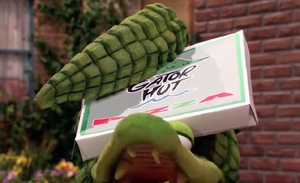 External links