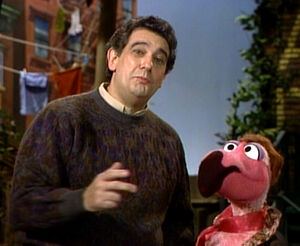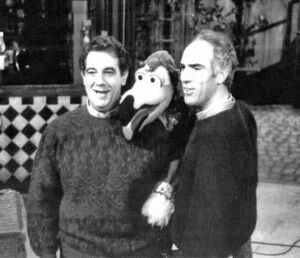 Placido Flamingo is an operatic flamingo from Sesame Street who is based on the famous tenor, Plácido Domingo. Hailing from Santo Domingo, the character debuted in Episode 2134 from Season 17, and helped to introduce classical music into the series.
Placido's performances at the Nestropolitan Opera are seen in the "Live from the Nest" series, introduced by Phil Harmonic. Placido is proud of his talents and not averse to the sound of his own voice. Though generally friendly, he does have an egotistical side and often refers to others as his "little friends." He was created by writer Mark Saltzman, who wrote the character's first three appearances.[1]
Placido made a rare guest appearance in the 1988 PBS pledge drive special, A Grand Night: The Performing Arts Salute Public Television, appearing onstage at the Chicago Theatre with the likes of Gerard Schwarz and Jerry Hadley. In 1989, Placido dueted with his namesake, Plácido Domingo, on "Look Through the Window" in the anniversary special, Sesame Street: 20 and Still Counting.
Following Richard Hunt's death in 1992, the character was retired, but continued to appear in re-used segments through 1998. He also made a background appearance in the 1996 Lowes Theater Policy trailer.
Placido Flamingo is still frequently cited in articles about opera appreciation, as an effective and influential early introduction to opera, ranking with the Bugs Bunny short What's Opera Doc? (1957).
Songs
Episodic appearances
Book appearances
Sources