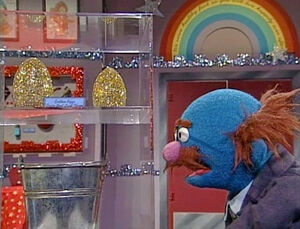 Planet Hollywood is a theme restaurant chain inspired by the popular portrayal of Hollywood. The chain launched in New York on October 22, 1991, with the backing of Sylvester Stallone, Bruce Willis, Arnold Schwarzenegger, and Demi Moore.
Appearances
On December 14, 2002, a massive auction of Planet Hollywood's estate known as "Selections from the Vault" was held by New York Sotheby's and one of the listed off items that can still be found on their website is a pair of silver and purple high heels worn by Miss Piggy on The Muppet Show where it sold for US$1,912.[2]
From June 5 to June 8, 2018, the "Icons & Legends of Hollywood" auction was held by Profiles in History where over 2,000 costumes and props used in movies & TV shows were sold off. At least a thousand of all the items were identified from Planet Hollywood's collection as many were once displayed in their restaurant while others are from their storage facility that are currently fetching for dollars on their Amazon storefront. While it's not exactly known what restaurant it appeared in, one prop listed for sale in the auction's catalog was a copy of the screenplay from The Muppet Movie that Kermit and Fozzie gave to the Electric Mayhem as a "meta" way of keeping them up to speed with the film's events. If one looks at the script listed in the online flipbook, you can still see the psychedelic doodles on the front cover that are noticeable when Electric Mayhem pulls out the script during the campfire scene.[3]
References
Sources