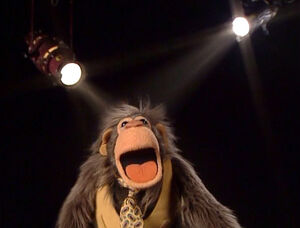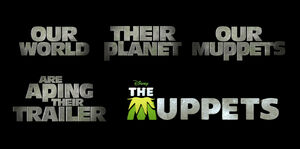 Planet of the Apes refers to a 1968 film and the franchise that followed in its wake.
References
In the Sesame Street computer game Ernie's Adventures in Space, a bunch of grapes appear floating in space. One grape exclaims to another, "Get your stems off me, you green, seedless grape!" This references the famous line from the film.
A status update on the Muppets official Facebook page claimed that they had several ideas for The Muppets spoof trailers, including "Rise of the Planet of the Prawns" (referencing Pepe the King Prawn and the recently released Rise of the Planet of the Apes).[1] The trailer was subsequently released on Blu-ray without the Prawns reference.
In a January 8, 2016 tweet, Kermit the Frog tweeted, "In my downtime while #TheMuppets is on hiatus, I've been working on some film pitches. So far I have ten pages on #PlanetoftheFrogs." [1] Fozzie Bear responded with two suggestions for taglines, which Kermit liked. [2]
Connections
See also
Sources