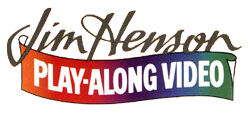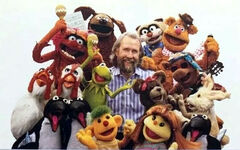 Play-Along Video is a direct-to-video series produced by Jim Henson Productions in 1988. The series of six tapes was distributed by Lorimar Home Video and Warner Home Video.
The tapes are aimed at children under 7, who are invited to "play along" with the Muppet characters -- telling jokes, singing songs, drawing pictures and making sound effects.
Two new Muppet characters, P.J. and Kai-Lee, were created for the video series. P.J. and Kai-Lee are a young brother and sister who are excited and eager to learn; they take the part of the viewer, asking questions and expressing interest.
The main Muppet cast also played a role in the the tapes. Kermit the Frog appears in some of the titles. Fozzie Bear takes the lead role in Hey, You're as Funny as Fozzie Bear, and Rowlf the Dog headlines Sing-Along, Dance-Along, Do-Along. Miss Piggy, Animal and Luncheon Counter Monster also make cameo appearances, and several new characters are introduced.
One of the tapes, Mother Goose Stories, features three tales from the Mother Goose Stories TV series. After each section, Mother Goose and her Goslings lead the viewers in an activity related to the story.
"Putting out existing shows on video was a wonderful way to reach audiences, but Jim was also excited by the possibilities of creating original material for the home viewer. By the mid 1980s, he was thinking about television as an interactive media, having audiences be active participants rather than passive viewers. And about a decade before Baby Einstein, Jim decided he wanted to develop interactive home videos with educational undertones specifically for babies or toddlers. The result was a series, taped in 1988, called Play-Along videos distributed by Lorimar.

The series was meant to engage children of various ages with activities like making music, drawing, telling jokes and storytelling. Marketed as "video-active", the Play-Along videos attempted to "treat kids as more than just spectators". Jim sketched out activities for babies and designed two new humanoid characters, P.J. and Kai-Lee who joined the Classic Muppets in the activities. Jim even got into the act for the Neat Stuff video, demonstrating how to skip rocks in Central Park.[1]"
In an interview, Henson talks about the purpose of the video series.
"Our videos are meant to be participatory. We want to get the kids to join in, sing along, play, take part in activities. Here I think video can be of great help in activities like art and music, which school systems tend to downplay these days. Also, I think we encourage kids' individual sense of creativity, probably better than a large classroom can.[2]"
Sources
External links
Community content is available under
CC-BY-SA
unless otherwise noted.