Release Date
September 8, 2015
Produced by
Warner Home Video
Format
DVD
Discs
1
Region
1
ASIN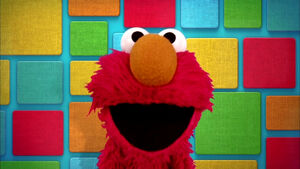 Play All Day with Elmo is a Sesame Street DVD released in 2015.
"

Come Play with Elmo! Everyone's favorite furry red friend is joined by all kinds of kids to play Elmo Says, Red Light Green Light, Freeze Dance, Pat-a-cake and more. OK Go mix primary colors into a rainbow and Taye Diggs helps Elmo pretend on this playful DVD featuring singing, dancing, and learning!

"
Bonus features include a full-length episode, "Simon Says," and "Elmo's World: Games."
The DVD was written by Molly Boylan and directed by Ken Diego. Unlike previous Sesame Street video releases, this video features special borders added to full frame material. Certain segments are intercut with Elmo interacting along with them.
Segments
Elmo plays "Elmo Says." (introduction cut, Kevin Clash's dialogue redubbed by Ryan Dillon)
Song: "Ziggy Says"
Film: "Shake Shake That Mango Tree"
Film: A hip-hop/dancehall call-and-response song.
Film: STOP signs all over (Elmo voice-over added)
Jack Black and Elmo introduce an octagon.
Film: Kids make the city traffic "stop" and "go." (Elmo voice-over added)
Cartoon: The word "GO" races down the street.
Film: Kids dance to different music styles. (Elmo voice-over added)
Film: Ann Marie and Skeeter Rabbit do their STOP dance routine. (Elmo voice-over added, ending edited)
Film: Dance with me!
Song: "Five Kangaroos"
Film: J for Jump!
Song: "Jump Up" by Dan Zanes and Friends
Song: "Jump" (remake)
Film: Two girls play a P-clap game.
Film: Kids play "Pat-a-cake."
Film: Kids introduce some South American instruments.
Song: "Three Primary Colors" (OK Go)
Cartoon: Color blobs mix together to make new colors.
Film: Kids pretend to be animals.
Cartoon: Guessing animal sounds on stage (Elmo voice-over added)
Cartoon: A delivery boy delivers baby animals to the zoo. (Elmo voice-over added)
Taye Diggs and Elmo sing "Let's Go Driving."
Zoe Saldana and Elmo demonstrate "transportation."
Song: "I'm a Little Airplane"
Viral videos
To promote the release of the video, three original viral videos were shot starring Elmo playing games, joined by Ernie and Abby Cadabby. These videos were published to SesameStreet's YouTube Channel, Sesamestreet.org and The Sesame Street Podcast.
Community content is available under
CC-BY-SA
unless otherwise noted.