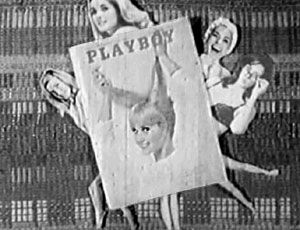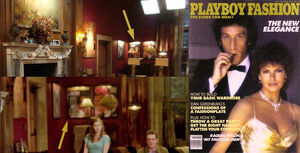 Playboy is a monthly magazine, founded in 1953 by Hugh Hefner and his associates and targeted at adult men. The magazine is published monthly and features photographs of nude women, along with various articles on fashion, sports, consumer goods, and public figures. It also has short fiction by top literary writers. Playboy's use of "tasteful" nude photos is often classified as "softcore" in contrast to the more "hardcore" pornographic magazines that started to appear in the 1970s in response to the success of Playboy's more explicit rival, Penthouse.
References
Kermit's mansion in The Muppets is decorated with various magazine covers. One of them is a doctored cover of the Fall 1982 issue of Playboy Fashion with Kermit and Raquel Welch. Although the cover has been manipulated for the movie, the two did once share the actual cover of Us magazine in 1978.
Muppet Mentions
The comic feature Little Annie Fanny, created by Harvey Kurtzman and Will Elder, featured a Miss Piggy appearance in the Dec. 1983 issue's installment, "Little Annie Fanny's Workout Show." In 1998, the comic was revived with different artists for two issues, and again Miss Piggy appeared.
Notes
In 1989, Caroll Spinney told The Chicago Tribune about getting stopped by a friend at a newsstand who spotted him thumbing through an issue of Playboy and said, "Hey I didn't know Big Bird read those kinds of magazines." Spinney claimed to only be looking at it for the articles and replied, "I'm not Big Bird. I'm Caroll Spinney."[1]
Connections
Several artists whose work has appeared in Muppet/Henson productions have also contributed to Playboy.
Models
Sources
Community content is available under
CC-BY-SA
unless otherwise noted.