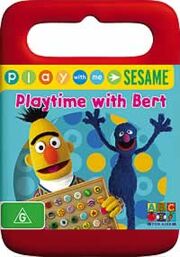 Playtime with Bert is a Play with Me Sesame DVD, featuring a collection of skits focusing on Bert. The DVD was released only in region 4 and other territories.

Segments
Image
Segment
Description

Ernie says
Feelings with Bert.

Muppets
In the park, Bert overhears the sound of a tuba - his favorite instrument. It's actually Simon Soundman, who's "just practicing." Bert begs Simon to teach him how to make that sound by himself, but Bert ends up attracting Gladys the Cow, who thinks she heard the romantic call of a bull. (First: Episode 2386)

Muppets
Bert and Ernie go fishing. Ernie catches fish by yelling "Here fishy, fishy, fishy," and fish come flying to his boat. Bert tries it, but only catches a shark. (First: Episode 1641)

Computer
Bert plays a computer game: pigeon patterns with Bernice.

Muppets
Pigeons and Cookies and Trash (First: Episode 3915)

play with me
The cast ask the viewer to say "sesame" when they say "Play with me", then Bert ask the viewers to go "Coo-coo", when he goes "Coo-coo", like Pigeons.

Muppets
Ernie and Bert explore an Egyptian pyramid. Bert is excited but Ernie is afraid. They see statues that look like them. Bert decides to explore a tunnel while Ernie looks at the statues, and then the Ernie Statue starts tapping and talking to Ernie. But when Ernie calls Bert back to the room, the statue doesn't move. Ernie is scared until the statue starts singing and dancing Rubber Duckie with him. Bert doesn't believe Ernie until he says "Bye-bye, statue," and the statue replies "Bye-bye!" and laughs... just like Ernie, scaring Bert. (First: Episode 1621)

move and groove
Grover asks the viewer to march around while Bert sings I Love a March.

Muppets
Ernie has Bert play a "Follow the Arrows" game, which leads him to the main camera, looking at the TV viewer. (First: Episode 1697)

Muppets
Bert enjoys a nice day at the park feeding his pigeons when Elmo screams a hello to him, scaring the pigeons away. Bert explains that when pigeons are near, one must be quiet. Elmo understands and helps Bert by loudly calling the pigeons back. Bert becomes happy again and Elmo cheers...scaring the pigeons away again. (First: Episode 3249)

Computer
Bert plays a computer game: Oatmeal art (Caterpillar).

Muppets
Ernie plays a game with Bert where Ernie plays riffs on his drum set and Bert has to repeat them back. Bert is surprisingly good at the game. (First: Episode 1809)

Muppets
Elmo talks to the viewer about feelings, looking for someone who feels sad. He encounters Zoe, who feels proud, and Bert, who feels angry. He feels bummed about not finding anyone who's sad, until Big Bird points out how that makes Elmo feel. (First: Episode 3883)

Ernie says
Ernie has the viewer laugh like him, Grover has the viewer say "wubba wubba", Prairie Dawn has the viewer sing like her, and Bert has the viewer do the pigeon dance.

Muppets
Ernie keeps catching fish, and Bert doesn't, so Ernie tries moving to a different place on the boat, then not using bait, then just quitting. When Bert finally catches something, it is only a note that reads: "What happened to your friend?" (First: Episode 3199)

play with me
The cast ask the viewer to say "Sesame" when they say "Play with me", then Grover ask the viewers to say "Jelly", when he says "Peanut Butter".




Muppets
Bert's Blanket
(First: Episode 2391)

computer
Ernie notices Bert with two different socks, which later leads him to play the computer game "perfect pair".

Muppets
Ernie makes Bert sing "Rubber Duckie" to his duckie to prepare for a time Ernie's not around and Rubber Duckie wants to be sung to. Just as soon as Bert begins to enjoy singing, Ernie has to leave. (First: Episode 3887) (ending edited)

Move and groove
Bert takes over from Grover to move his eyebrows before playing a game of "Pop Goes the Weasel" with the viewer before being joined by Prairie Dawn, Grover and Ernie.
Cast
and