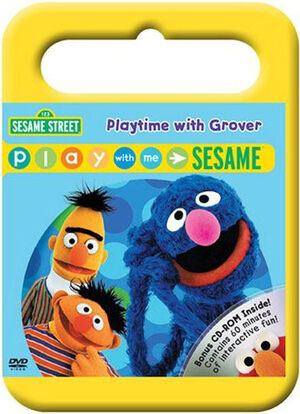 Produced by:
Release Date:
2007
Discs:
1 DVD
1 CD-ROM
Region:
1
Playtime with Grover is a 110-minute, R1 DVD of Play with Me Sesame,featuring a collection of skits focusing on Grover. The DVD comes with a bonus CD-ROM with more than 40 minutes of interactive activities.
The title had previously been released in Region 4.
Segments
Image
Segment
Description

Ernie Says
Super Grover plays "Super Grover Says", instructing the viewers to put on helmets and capes, and demonstrates a few times.

Muppets
Grover assists Zoe in demonstrating the difference between short and long, first by hopping and then hugging.

Play with Me
The cast instructs viewers to say "Sesame" when they say "play with me.", then Bert suggests they do it faster.

Muppets
Mr. Johnson wants to order some spaghetti at an Italian restaurant called Guido's Trattoria and Spaghetti Joint. Grover brings the food, but it turns out to be just one noodle, angering Mr. Johnson. Next, Grover brings him only two noodles, then one noodle again. Finally, Grover brings him a large plate of spaghetti, with a lot of noodles. It proves too heavy for him, and he spills the spaghetti all over Mr. Johnson, who storms off in a huff.
(First: Episode 3233)

Move and Groove
Grover instructs the viewers to pretend to ride in an automobile, as "Let's Go Driving" plays.

Muppets
Grover, Elmo, Zoe and Telly arrange themselves in different ways to show that they will still remain four monsters.

Muppets
Kermit tries to explain light and dark. Grover comes to help, but it's so dark that he crashes into everything.
(First: Episode 3784)

Ernie Says
Ernie has the viewer laugh like him, Grover has the viewer say "wubba wubba", Prairie Dawn has the viewer sing like her, and Bert has the viewer do the pigeon dance.

Muppets
Grover can't help but sneeze during his talk on proper sneezing etiquette.

Muppets
Mr. Johnson is at home when he calls for pizza delivery. Naturally, the delivery comes by way of Grover who keeps messing up the order because he's not listening to the order. He brings a carpenter's saw and a potted flower attached to his head as a result of cutting Mr. Johnson off mid-sentence.
(First: Episode 2971)

Play with Me
The cast instructs the viewers to say "sesame" when they say "Play with Me", and Grover then instructs them to say "Wubba".

Muppets
Grover demonstrates "surprise" with Prairie Dawn in thirty seconds.
(First: Episode 3892)

Move and Groove
Grover and Cookie Monster do A Very Simple Dance but Cookie Monster always does "eat cookie" until Grover told him to do something different, "Swallow cookie".

Muppets
Elmo can't reach any apples in an apple tree, so Super Grover tries to help, first by telling the apples to come down, and then by shaking the tree. Eventually, Elmo finds a stick that he can knock an apple down with.

Play with Me
The cast is quieter when they instruct the viewers to say "Sesame" when they say "play with me".

Muppets
Grover acts in Prairie Dawn's new musical, where he sings "Singin' in the Rain," but he keeps getting the wrong weather.
(First: Episode 2961)

Ernie Says
The cast and Ernestine pretend to be a choo-choo train.

Muppets
Fur (1998 remake)
(First: Episode 3774)

Play with Me
The cast decides to say "Sesame" when the viewers say "Play with me".

Muppets
Mr. Johnson is cold and wants something warm. Grover suggests exercise, grabs him out of his seat and starts bouncing him around, which bothers a nearby passenger. Next, Grover gives Mr. Johnson a big hug, which doesn't work either. What Johnson really wants is a blanket, so Grover looks in the overhead luggage compartment, letting everything in it fall out and cover up Mr. Johnson.
(First: Episode 3103)

Move and Groove
Grover dances to the Groverelli.
Cast
Grover, Ernie, Bert, Prairie Dawn, Ernestine, and Cookie Monster.
Grover, Prairie Dawn, Mr. Johnson, Zoe, Elmo, Kermit the Frog, Herry Monster, Telly Monster, Anything Muppets (Family of four in Let's Go Driving, Director, Various movie crew members) and AM Monsters (Light Blue with small green nose).
Performers
and
CD-ROM
The bonus CD-ROM features three sections of activities, featuring three games and four video clips each.
Greetings from Grover
Video: Grover plays guitar in the park
Game: Super Grover in "The Nick of Rhyme"
Video: "Go!" with Elmo and Super Grover
Game: "Dress Grover"
Video: Global Grover: Trinidad
Game: "Greetings from Grover"
Video: Grover and Rosita have 15 seconds to demonstrate the word "love"
Food-O-Rama
Video: "The First Time Me Eat Cookie"
Game: "Cooking with Rosita"
Video: Live action/ animated fim about strawberries
Game: "Oscar's Trash Collection"
Video: A song about the making of noodles
Game: "Cookie Check-Out"
Video: a cartoon about carrots
Let's Dance
Video: "The No-No-No!"
Game: "Zoe's Dance Moves"
Video: an african boy describes a day at his mom's dance class
Game: "Egg Counter Elmo"
Video: Zoe demonstrates "The Banana Dance" to Big Bird
Game: "Limbo Elmo"
Video: a girl dances with flowers, trees, and the sun
International releases
Community content is available under
CC-BY-SA
unless otherwise noted.